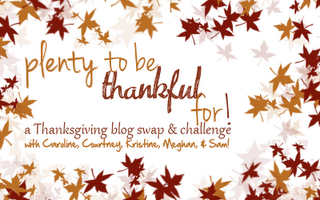 Plenty to be

THANKful

for - Favorite Thanksgiving Recipes!
I have several favorite recipes that we have every year at Thanksgiving, but they are always family recipes that have been around for years and well there just is not a "recipe"! You know what I am talking about, those dishes that have been made for years and years and no one can really tell you EXACTLY what goes in the dish!!??!
My husband makes a wonderful green pea and asparagus casserole - I know it sounds kinda yuck but trust me its

delish

!! My mother in law makes some of the best dressing that I have ever put in my mouth!! However, on Friday night I went to my cousin's house for a little family gathering and his wife made this wonderful cornbread. I think I will try to make it for our meal on Thursday, it seems to fit right in with all of the Thanksgiving

yumminess

!!
BROCCOLI CORNBREAD

1 box Jiffy cornbread mix

1 (10 oz.) box frozen chopped broccoli, thawed but not chopped

1 onion, finely chopped

6 oz. carton of cottage cheese

1/2 c. melted butter

1 tsp. salt

3 eggs, beaten stiff

Preheat oven to 400 degrees. Put broccoli in microwave or toaster oven to melt it, then stir in onion. Mix together all other ingredients except Jiffy cornbread mix. Mix in Jiffy. Grease one 9 x 12 x 3 inch pan with Crisco, flour it and pour the mixture in. Bake at 400 degrees for 25 minutes.