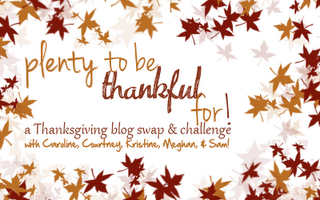 I'm

THANKful

for Black Friday and Leftovers!!
In the past, I have been one of those crazies that tackled Black Friday sales. This year, not so much. Shawn actually saw a few deals on some items he had on his Christmas List and decided he would attempt to conquer the crowd. I know, I know, poor guy going to buy his own gifts!! He went to three different places and with MUCH frustration left without any purchases! After hearing the play by play of his trip, I decided that I would stay at home this Black Friday!!
Now, I am not a big football fan, but with all the posts on

Facebook

about the Arkansas vs.

LSU

game I felt like I should be!! I kept up with the game as much as my attention span would allow, I think I dozed a few times!! Congrats to LSU, even though I was pulling for the Razorbacks because of dear friend who are devoted Razorbacks!
Later we went to my parents for leftovers! I think that I am over the turkey, dressing and casseroles until Christmas! Don't get me wrong the food was delicious, but after two days of it I am done.
Once home and in our comfy clothes we settled in and watched some Christmas specials. First, we watched "The Elf on The Shelf"
It was a very cute show and it really made Addison's imagination go wild. Before bed she wrote a letter to her elf and left it for him on our Christmas tree. Tiny has made a paper snowflake with a little message for Miss A to find in the morning! Have I mentioned how much I love the fun and memories we make with our elf??!!??
Once Momma time kicked in I decided to continue the Christmas theme and watch "Love Actually". I had heard so many good things about the movie and I have to agree with all of them. It was such a great Christmas love story, it will be a must watch for Christmases to come!!
I am such a lover of music and I thought this soundtrack was fantastic!! Santa?? Are you listening??
Our Black Friday was absolutely perfect, how was yours?