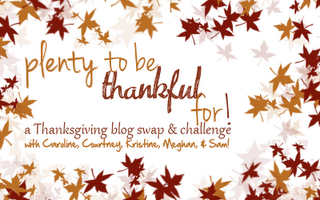 Day 2 - I am

THANKful

for YouTube.
Isn't YouTube a wonderful little creation!! Here are just a few reasons why I am

THANKful

for YouTube.
1. Lyrics
I am a sucker for a good song lyric, but you know when you are driving down the road singing your heart out and all of the sudden.....your humming!! Why are you humming because you just aren't quite sure of that one line in that song!! I love that I can come home and hear the song while reading the lyrics!! Thanks to everyone who takes the time to post these - I love them!!
2. Laughter
Come on you KNOW that is funny!!
HAHA
- when his shoes fly off I laugh every single time!!
3. Lessons
I absolutely LOVE Michelle
Phan's
make up tutorials. I have extremely small eyes and love all of her tips and tricks with eyeliner and mascara!!
4. Late Night Interviews
I cannot tell you how many times I used to walk into the office and someone would say, "Did you see (insert name here) on (insert show here) last night?" 9 times out of 10, I had missed a great interview or skit but thanks to YouTube it was right at my fingertips! Who has not seen Parts 1,2 and 3 of The History of Rap? I have posted part 2, I can assure you that you will not be
disappointed
!! Man, this music just takes me back!!
Can't wait to see what other videos and clips everyone is
THANKful
for!!