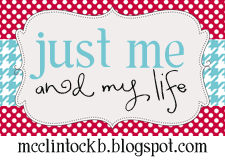 It's Friday Fives over at Just Me and My Life!!
1. If you could be on a show(talk show, game show...)which one would you pick?
I would love to sit at the table and discuss a few things with the girls. I tend to agree more with Elisabeth
Hasslebeck
than the others, but would still love to go discuss the "hot topics".
2. What was your first job?
I was a cashier at our local Food Rite store while I was in high school. Oh how I can vividly remember the 3pm-9pm or 4pm-10pm shifts!!
3. What's one of you guilty pleasures?
I was a fan of
Bethenny
Frankel when she was a contestant on the Apprentice way back when. I never watched her on any of "The Real Housewives" but caught a "
Bethenny
Getting Married?" marathon a few weekends ago and was instantly HOOKED! I will admit that I have watched the episode where she had her baby more than ONCE! :)
4. Would you ever vacation alone?
ABSOLUTELY not!! I do enjoy my alone time but I would most
definitely
want my family with me to share the memories and fun! **We are actually leaving on vacation on Saturday, it will be the first REAL vacation we have had since 2007**
5. Democrat, Republican, or Independent??
Click on over to Beth's Blog and give us the answers to your Friday Five's!!