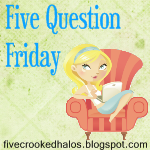 I found this cute list of questions for 5 Question Friday over on
Harmony Song's
blog, I thought it sounded like a fun idea! So here we go with my first 5 Questions!
1.Favorite gift you are GIVING this year?


I cannot answer this question just yet! I have many family members who read this blog, and I don't wanna give away any surprises!!
2. How many parties are you attending between now and Christmas?


Wow - I have something to do on the9th, 10th, 11th, 12th, and 13th - so that makes FIVE back to back Christmas parties, whew!!
3. What is your favorite Christmas song?


Breath of Heaven by Amy Grant has always been a favorite of mine. Right now Addison is Rudolph the Red Nosed Reindeer NUTTY, so we listen to that one often

4.
Who was your favorite elementary school teacher and why?


My favorite elementary school teacher was Mrs. Valerie Brown! I had her for Kindergarten and again for the 6th grade, I loved everything about her! One of my first memories of her was how wonderful she was with me when I was so horribly scared of fire/tornado drills!! I just absolutely adored her - she even attended some of my birthday parties as I was growing up! You can check our cute daughter Caroline's site here!!

5.
If you had a choice to live in any other period of time (other than now) what era would you choose and why?


I would love to have lived on this earth when Jesus was in the flesh and teaching to people. There are so many people of the Bible that I cannot wait to talk to one day! Jesus being one of them and then Paul and Esther being two others!

What great questions!! If you have a blog - play along!!